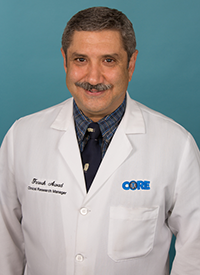 The Physicians of CORE Orthopaedic Medical Center believe it is important to provide our patients with the best treatment options available. In order to offer this extraordinary care for our patients, our Research Department participates in research studies evaluating cutting edge technology for the treatment of bone, joint and spine disorders. In addition to our physicians being published internationally, we also teach and train physicians in advanced surgical techniques due to their participation in a wide variety of pharmaceutical and device investigational studies.
Current studies include the following:
Lower Spine Herniated disc: A study trial in which an injection is given in the affected disc for patients with up to year of back and leg pain. The study includes X-Rays, MRI's, and Laboratory check.
Monovisc: Recruiting patients who have been diagnosed with hip osteoarthritis. The study includes two injections to the hip. Patient must sign a consent form.
Ceterix Study for meniscus surgery: Patient male or female 18-60 years old. History of meniscal pathology (pain, mechanical symptoms described as locking, clicking, or giving away).
Review the complete list of studies (last updated 07-03-17)
Farouk Awad, our Research Director, has 20 years of experience in research and has been apart of the CORE team since 2004. Please contact us if you have any questions regarding our Research Department or think you may be a candidate for an ongoing clinical research study. We can be reached at 760 943-6700 ext. 162.
Get Adobe ReaderYou will need the Adobe Reader to view & print these documents.